At Pettitt Group Real Estate, we know that purchasing a home is more than a place to hang your hat, it's about being a part of a thriving community where you love where you live. We are dedicated to helping sustain our wonderful community and are passionate about keeping the arts alive in the in the Boise area. We believe the arts are an integral part of any community. This is why we choose local, art-based non-profit PARTNERS each month and donate a part of every closing transaction (minimum donation $1,000) to these organizations. We're proud to support Boise Baroque Orchestra as our March PARTNER.
---
The Boise Baroque Chamber Orchestra is developing new audiences and providing musicians with the opportunity to significantly extend their repertoire.
The Boise Baroque Chamber Orchestra, created in 2003, is a group of world class musicians aiming to bring the baroque and classical repertoire to the Treasure Valley. Many of the musicians also perform with other local groups such as the Boise Philharmonic and Opera Idaho. Boise Baroque's goal to share their repertoire with new audiences is inspiring and a beautiful contribution to our community.
---
Upcoming Events
The Boise Baroque Chamber Orchestra is currently at the tail end of their 2018-19 season. There are still a couple of chances to catch a performance, featuring guest musicians and conductors. The majority of Boise Baroque's 2018-19 season concerts take place at the stunning Cathedral of the Rockies. The final concert of the season being an exception, is to be held at the Egyptian Theater in Downtown Boise.
The 2019-20 season schedule has already been released, however only tickets for the 2018-19 season are currently for sale. Stay tuned to the Boise Baroque website to know when the new season's tickets go on sale.
2018-19 Season
March 15th & 17th
Featuring Yaniv Attar, guest conductor & Denise Dillenbeck, violinist 
Biber: Battalia
J.S. Bach: Suite No. 2 for Orchestra
J.S. Bach: Violin Concerto in E Major
Mozart: Symphony No. 36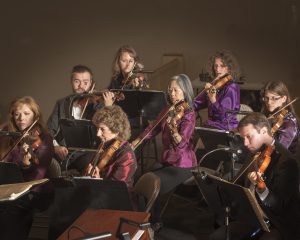 April 21st
Featuring Boise Baroque Chamber Orchestra, Boise Philharmonic Master Choral and four outstanding soloists
Haydn: The Creation
---
To learn more about Boise Baroque Chamber Orchestra head to their website.
The Pettitt Group is thrilled to continue supporting local artists and local arts based non-profits.