We are pleased to highlight the work of artist Karen Jacobsen, our April 2018 artist of the month.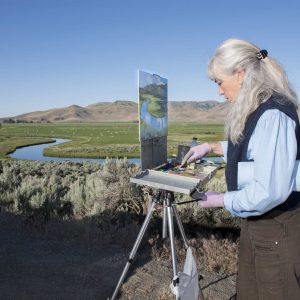 Karen Jacobsen loves painting and drawing. Jacobsen has been captivated by the visual energy and abundance of the natural world. Combining art and science has given her a keen eye for capturing the subtle to austere beauty of her subjects. As a member of the Plein Air Painters of Idaho, the Idaho Watercolor Society, and the Guild of Natural Science Illustrators, she is constantly observing and painting.
Jacobsen often draws her inspiration from the lovely landscapes of Idaho, where she currently lives and works. Her method is truly that of capturing the subject. Multiple visits to a location may be necessary before a piece is complete. This dedication to the subject is what allows her to make such beautiful representations of natural landscapes.
---
In 2017 the Pettitt Group purchased this original piece of artwork as part of our Supporting the Arts initiative. Throughout the year we give away fine art prints of this beautiful artwork as client closing gifts. The original will be auctioned in November 2018 at our annual "Art Night Out" at the Boise Art Museum.
---
To learn more about Karen and to view her work, be sure to check out her facebook and website.
We are excited to continue to promote local artists and support arts education! Learn more about our Supporting the Arts program and see all the 2018 artists here.