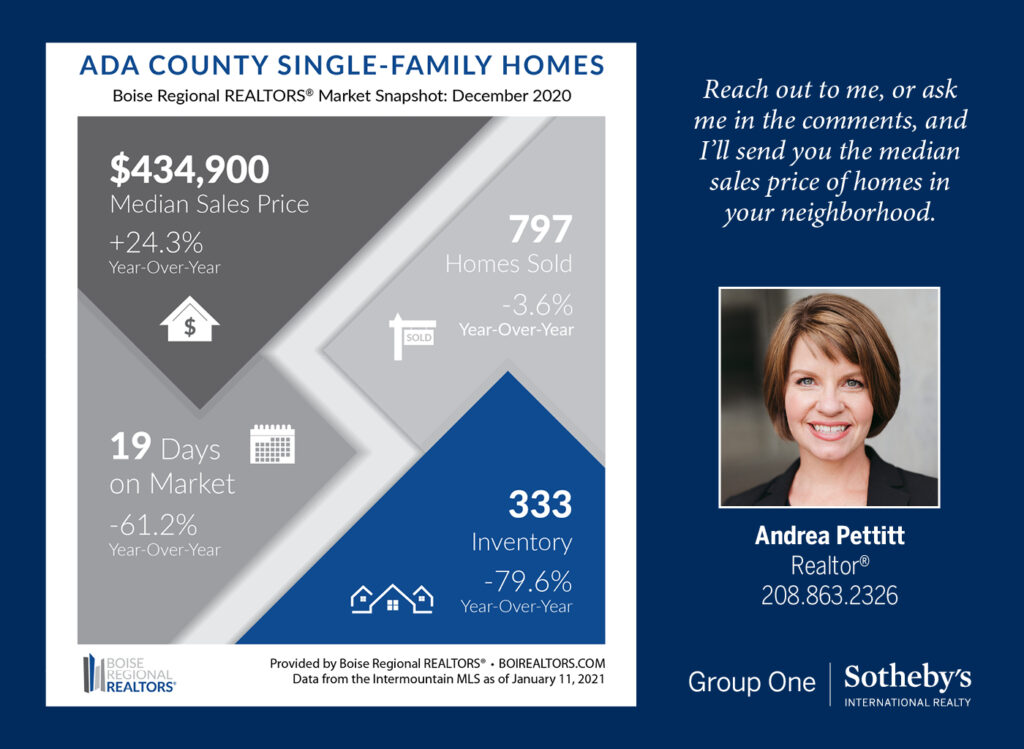 (Taken from the Boise Regional Realtors December 2020 Market Report)
"The year started strong with January 2020 sales 21.5% higher than in January 2019 but began to taper off in February and March as the uncertainties of the pandemic made their way to our local market. In April and May, when our spring market typically begins to ramp up, sales activity dropped by 19.5% and 29.7%, respectively, because of the government-mandated shutdowns and restrictions.
Sales began to pick up in June, then jumped 22.0% year-over-year in July and remained elevated through November, compressing nearly a year's worth of activity into just six months.
A major factor that pushed home prices up was insufficient supply compared to demand, especially for existing inventory. For most of the year, the average Days on Market metric (DOM) for existing homes was at 20 days in 2020, on average, compared to 42 days in 2019. Then in October, DOM dropped to just 13 days — a record low based on data going back to 2004. This meant buyers had to act quickly and write a competitive offer when they found a home.
On the last day of December 2020, there were just 333 homes available for sale, for both existing and new construction combined — 79.6% lower than December 2019 and a record low based on data going back to 2004. More inventory is needed to bring balance back into the market at all price points and product types.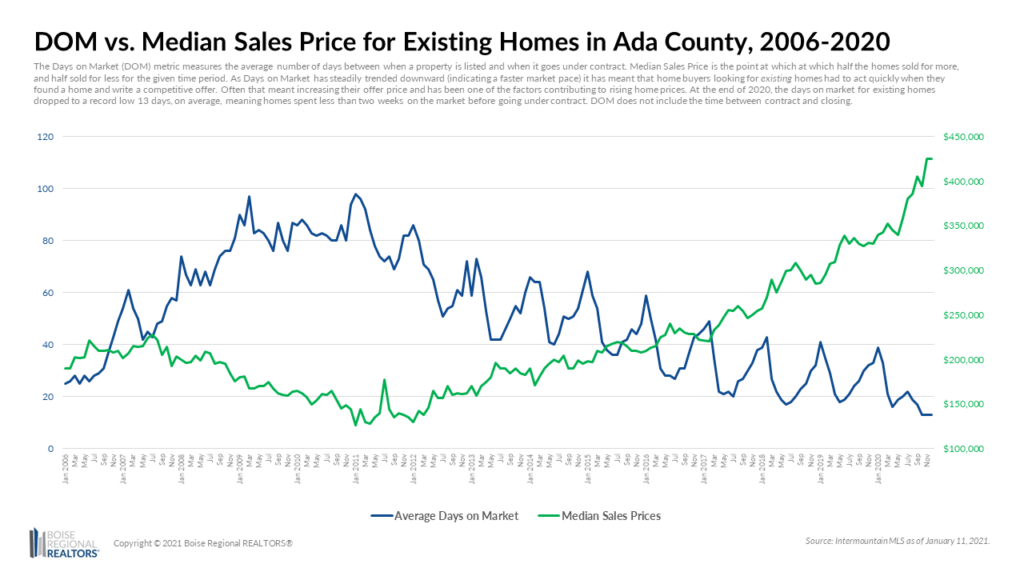 Looking forward to 2021, the Boise Metro area continues to be among many economists' top picks for markets that should see continued growth. The National Association of REALTORS® even included Boise in their list of markets that are "expected to perform well in a post-COVID-19 environment." (SOURCE)
To help balance the market out, again, we need more inventory among new and existing product. We hope to see more homeowners list in the coming months and take advantage of the ongoing demand. One additional opportunity for more existing inventory, though, comes from investors holding single-family properties. Investors should talk to a REALTOR® and tax professional to understand their options for selling their rental homes and potentially rolling proceeds into other sectors such as commercial or multi-family to diversify their portfolios.
A fast, competitive market like ours presents challenges and opportunities to buyers and sellers alike. Whether you're looking to buy or sell, it's never been more important to work with a REALTOR®. They will help identify potential options for purchase, connect you with a mortgage lender, help craft a competitive offer, and negotiate on your behalf, allowing you to make decisions confidently and quickly to achieve your real estate goals."